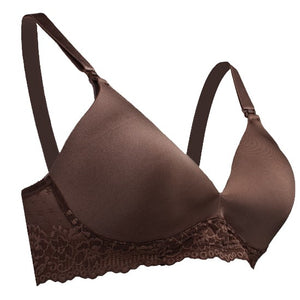 Autumnz Pure Memory Foam T-Shirt Nursing Bra is a fully moulded bra that fits your body shape perfectly well and one that will be extremely comfortable to wear before, during and after your breastfeeding days.
Featuring high-tech memory foam cup that mould perfectly to the curves, therefore fitting every individual, unique body shape. It moves with your changing body and feels natural. The memory cup is stretchable to accommodate the changing breast size as mothers breastfeed and yet can return to its original shape, making this the ultimate bra to have for all breastfeeding mothers.
Autumnz Pure is specially designed for a sensuous and smooth fit, creating a flattering look under tight-fitting tops and dresses. It offers discretion to help hide nipples and breast pads as well as giving a seamless appearance under clothing.
Wrapped in smooth imported fabric, this bra features non-crush moulded momery cups that ensure an amazing fit and maximum comfort.
Featuring excellent support system that provides remarkable lift and shape, Pure is a must-have for all nursing mothers.
It has one hand release clips for easy nursing while carrying baby. Also comes with full drop cup to encourage maximum skin-to-skin contact between mummy and baby.
All sizes come with 3 rows of hooks and eyes at the back - an added advantage for that extra bit of support and lift!