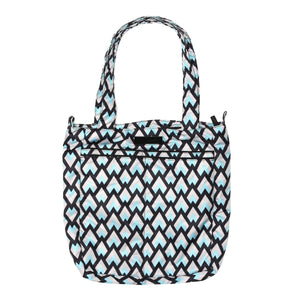 Really, really, really, really, light.
10" strap drop. Easy to carry. Comfy on your shoulder.
Two insulated front pockets. Good for water bottles!
Inside zipper pocket for little stuff.
Main zipper closure. Keeps your stuff in when tossed in the back of the car or through the x-ray at the airport.
Reinforced fabric loops to attach a messenger strap (sold separately) or attach other fun accessories.
Teflon™ fabric protector … helps repel stains.
Antimicrobial Linings ... kills germs, mold, mildew, fungus, bacteria, and other bad stuff.
Metal Hardware ... we don't trust any of the cheap plastic stuff.
Light-Colored Linings ... you can actually see what's inside; it's not just a big black hole in there.
Machine Washable ... air dry.
Product Dimensions: 12"W x 14"H x 3"D
Volume Measurement: 12.3L