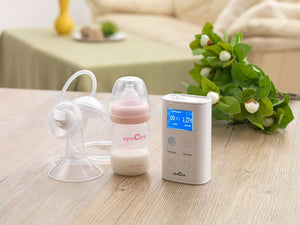 FEATURES:
The Spectra 9 Plus comes with a complete double kit so you can double pump – pumping both breasts at once saves so much time, which as a busy mum trying to find time to express, you will really appreciate. Double pumping also ramps up levels of prolactin (the milk producing hormone) in your blood, so is better for supporting milk supply.
The Spectra 9 Plus has a nozzle for each milk collection kit, making it easy to swap from single to double pumping. Just attach a milk collection kit to both nozzles if you will be double pumping, or if you only want to single pump, you can just close off the second nozzle.
Letdown mode – switch with a touch to the letdown mode, which is a light, quick mode designed to speed the start of milkflow, just the way a baby does. This will get you expressing faster and help your body get on board with the job of expressing milk.
Easy adjustment of suction strength and cycle speed together – touch button controls allow you to adjust suction strength and cycle speed with one touch. As you increase the suction, the speed will slow down [see the S2 if you want even more control over cycle program].
Inbuilt rechargeable battery – yes, we know you love this feature. Use your Spectra 9 Plus while plugged into mains, or just use it wherever you like from its inbuilt rechargeable battery.
LCD display so you can easily see where you're at with vacuum and cycle settings. There's a battery indicator so you know how much charge you have left on the battery AND there's a timer so you can keep track of how long you've been expressing.
The Spectra 9 Plus is our most portable pump – lightweight and slimline, it will slip easily into your handbag.
Closed system – like all Spectra breast pumps, the Spectra 9 Plus has a closed system, which means that there is no way for milk to get into the pump motor. Milk particles in the pump motor can lead to the growth of mould and is a potential source of virus transmission.
As always with Spectra breast pumps, the Spectra 9 Plus has high performance vacuum with maximum suction of 300mmHg.
Slow-flow teats are suitable for newborn feeding.
CONTENTS:
Spectra 9 Plus main pump
Wide neck breast shield (24mm size) x 2
Bottle x 2
Slow flow soft teat x 2
Tubing x 2
Disc x 2
Cap x 2
Backflow protector x 2
Valve x 2
Power adaptor
All components in contact with your milk are BPA free.
TECHNICAL SPECIFICATIONS:
Vacuum range 0 ~ 300 mmHg
Cycle length 30-46 RPM
Weight – 297g
Powered by mains or inbuilt rechargeable battery
Motor life 1,500 hours
Country of origin: South Korea
Certification CE, FDA, ISO13485, ISO9001
WARRANTY:
Service centre located at 18 Boon Lay Way Tradehub 21 #10-147 Singapore 609966. Opening hours from 10am to 6pm, Monday to Friday (except public holidays).
One Year Warranty (starts from baby birth date or the day order was fulfilled, whichever later). Warranty only cover motor unit and backflow matter will not be cover in the warranty.
Customer is required to bring along their warranty card, purchase invoice and baby birth certificate when servicing the pump.
From 1st June 2015, customer can register their warranty online via www.spectrababy.sg/pages/warranty-registration apart from sending the merchant copy.
Use the table below to help you choose the right Spectra Breast Pump for you:
| Model | Dew 350 | S2 | S1 | S9+ | M1 |
| --- | --- | --- | --- | --- | --- |
| Weight | 0.99kg | 0.99kg | 1.1kg | 300g | 500g |
| Vacuum strength | 350mmHg | 300mmHg | 300mmHg | 300mmHg | 300mmHg |
| Timer | No | Yes | Yes | Yes | No |
| Rechargeable Battery | No | No | Yes | Yes | Yes |
| Nightlight | No | Yes | Yes | No | No |
| Massage mode for letdown | No | Yes | Yes | Yes | Yes |
| Grade | Hospital Grade | Hospital Grade | Hospital Grade | Personal Use | Personal Use |
| Cycle speed | 38rpm | 38-54 rpm (5 steps) | 38-54 rpm (5 steps) | Adjusts with suction | Adjusts with suction |
| Adjustable speed | No | Yes | Yes | Adjusts with suction | Adjusts with suction |